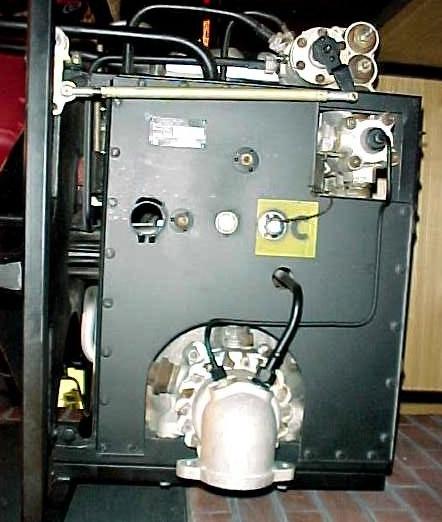 As you can see from this picture, the motor appears well preserved, and very largely complete. It is quite common to see the electrical equipment missing, and the leads and plugs which ought to be present are no longer attached. This is a "classic" view showing the large blanking plate which covers the entire starboard side of the motor. Compare this with the example at Cosford (with electrics in tact), and Shuttleworth, which has a small side plate.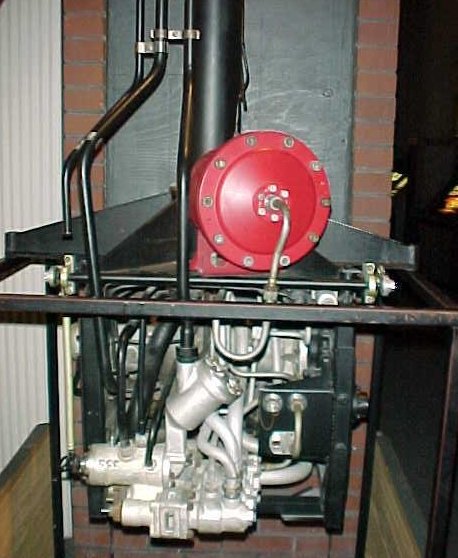 From this vantage point you can clearly see the C-Stoff fuel control valve on the left with the black pipes carrying the fuel down to the combustion chamber. The fuel flow and pressure regulator is to the right of this, with the silver T-Stoff pipes tucking under on their way down to the combustion chamber. The fuel filter is shown well.
Unusually, the steam generator is painted a bright red, but I suspect this may be a preservative measure, as it is common for this mild steel component to attract rust. The standard wartime treatment was to polish it with graphite in oil, but anti-oxidising paint is good enough. It looks to have been sensibly applied, while the steam generator was disassambled.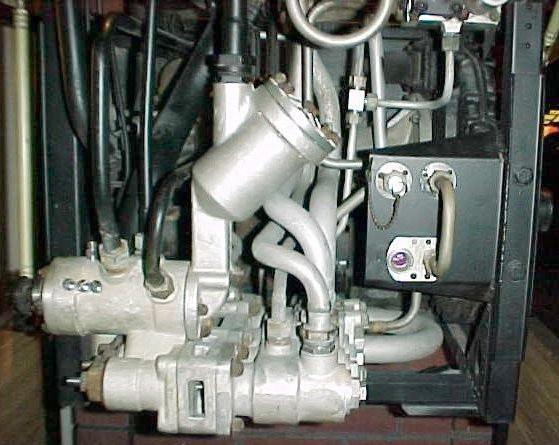 This is a closer view of the fuel flow control valve and regulator, with the C-Stoff and T-Stoff connections.
All photographs © Leroy Stockemer
Web Master
Shamus Reddin

-: Home :-
-: Me.163 :-
-: Design :-
-: A. T. O. :-
-: Missiles :-
-: Preserved Motors :-