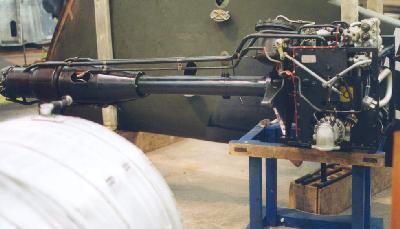 This motor is not usually on public display, as it is housed in the Museum's Messerschmitt Me.163 Komet Wkr.Nr.191614. However, when these photographs were taken, towards the end of the year 2000, the Komet was undergoing extensive restoration, and the motor had been removed to allow this.
Being protected within the airframe, the motor is in excellent condition. For a number of years, the Komet was something of an embarrassment, with a non-standard paint scheme and several areas of damage. This is now being rectified, and the motor itself was removed for assessment and restoration.
The data plate on the motor shows this as an HWK 109-509.A-0. This would make it one of the earliest motors yet.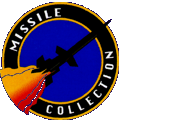 Known History.
The Komet, Wkr.Nr.191614 was captured by the RAF at Husum, and before coming to Cosford, spent a long time at the RPE (Rocket Propulsion Establishment) at Westcott in Berkshire. The airframe was stored with a large captured missile collection at Westcott, and when this facility was closed, transferred to Cosford. For a long time the condition of the Komet was not up to the standard of Cosford's other exhibits, and in 2000 a programme of restoration was begun. At the time of writing, it is not clear whether the motor will be left out for display following completion of the work, or re-interred within the airframe.
Description.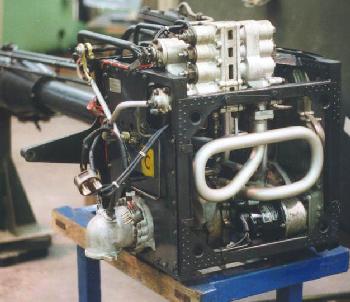 Following a period of cleaning and restoration, this motor is now in beautiful condition. It must have been protected by being fixed in the airframe, and seems as though it has been untouched since the war.
The motor must be one of the most complete in the UK, having all the electrical services intact, all the mechanical linkages free moving, and all the fuel pipe runs apparantly complete.
If this motor is an "A-0" it must be an early unit. However, it bears all the signs of a production unit, rather than a prototype.
Web Master
Shamus Reddin

-: Home :-
-: Me.163 :-
-: Design :-
-: A. T. O. :-
-: Missiles :-
-: Preserved Motors :-