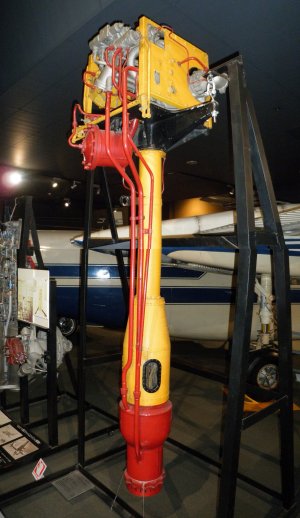 This motor is displayed suspended in the centre one of the exhibition halls of the Osaka Transportation Museum, in Japan. It sits alongside an example of the XLR-11-RM-5 rocket motor for the Bell X-1, with which it shares some historical significance.
This exhibit shows another novel way of displaying a Walter motor. Possibly saving on floor space, the display is at least very accessible.
It is quite clearly an HWK 109-509.A-1 motor, with electrical starter and accessories gearbox.
Known History.
Thanks to the work of fellow rocket motor enthusiast Fumiyuki Nagakura, these pages of the site have been updated.
Fumiyuki reports that the Transportation Culture Promotion Foundation which was established in Tokyo in 1970, and this establishment moved to Osaka. The current museum is a showcase for many aspects of global transportation developments, focussing on Japanese design and engineering.
It is possible that the motor was donated around 1961 together with other engine exhibits by the 5th Airforce of the USAF. This seems to be a very similar (albeit sketchy) history to that of the Ballarat motor M-1772.
Description.
From the photographs the motor seems to be in comparatively good condition.
The very unusual paint scheme appears to be unique. Steel parts of the motor, the frame and the gearbox, have been painted red and yellow. Although difficult to tell, the aluminium cast pieces may have not been painted.
The illustration to the left is a composite, made from two carefully taken photographs. It would not be possible to stand far enough away and get a clear single image.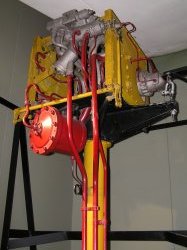 In the close-up picture, it is possible to see that the condition of this motor is good. It is also largely complete. The electrical cables are missing, although this is not unusual. Walterwerke used an asbestos fibre to protect and insulate the electrical cables passing over the top of the motor, and this is often removed on preserved motors.
The large accessories gearbox can be seen through the top of the motor. The C-Stoff combustion chamber cooling out-flow and its complimentary return flow and fuel filter are plainly shown. As is the control rod system linking the main C-Stoff Control regulator valve (on the right) to the steam control valve (just visible above the steam generator).
The T-Stoff control panel on the left upper side of the motor frame (as we see it in the picture) appears to have two angle brackets fixed to it. I suspect that this is almost certainly a modern, post-war modification - possibly to hold an explanatory plaque or label (?).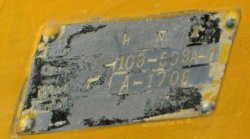 The data plate shows this as an HWK 109-509.A-1. The manufacturer is also shown as the Heinkel Jenbach works, although the Hersteller "gxz" stamp is barely visible.
Web Master
Shamus Reddin

-: Home :-
-: Me.163 :-
-: Design :-
-: A. T. O. :-
-: Missiles :-
-: Preserved Motors :-