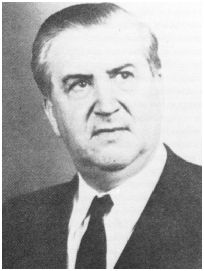 Hellmuth was born on 26 August 1900 to Louise and Ludwig Walter, who had a painting business. With the support of his parents, Hellmuth left school in 1917 with a desire to become a naval engineer, and on 12 April took up a post as a machinist trainee in the Hamburger Reiherstieg shipyard.
Walter worked closely with piston steam engines, diesels and marine turbines. However, he realised that the practical work he had embarked upon would also need a solid grounding in the theoretical aspects of engineering, and in the Spring of 1921 he enrolled in a course in mechanical engineering at the Hamburg Technical Institute.
On 20 February 1923, he left the Technical Institute to begin working at the Stettiner Maschinenbau AG Vulcan, as a marine turbine engineer.
It was during this time working with turbines, that Walter began to formulate his ideas about more efficient methods of propulsion. Rather than rely on external sources to produce steam for the turbine, Walter reasoned that the chemical decomposition reaction of an oxygen-rich fuel would be able to drive a turbine directly, whilst at the same time be independent of atmospheric air. A chemical decomposition-powered turbine would have a high power-to-weight ratio, and Walter proposed a condensing system to manage the resultant high temperature gases. He patented his ideas on 18 October 1925.
Walter continued to work for Vulcan, but began to be disillusioned by the lack of progress of his ideas. At the same time he became involved with the Heereswaffenamt in Berlin where the cutting edge of technologies for flight defence were being developed. By moving in higher circles, Walter was able to keep promoting his ideas. In 1930, the Marineamt decided to construct a Walter designed turbine, and he moved to the Germania-Werft in Kiel as project leader. During this time Walter became convinced that his hydrogen peroxide driven gas turbine system would be an ideal propulsion system for submarines. That this radical idea was viewed with extreme scepticism by other engineers was no deterrent to him, and years later colleagues remembered him carrying around papers for his Unterwasser Schnellboot, so that he could lobby for his proposals at any opportunity. As well as being an atmospheric air independent system, with the theoretical benefit of being able to allow a submarine to remain submerged for much greater periods, even with the engines running, Walter's proposals were for significant speed increases over the conventional diesel-electric power plants.
The Marineamt was sufficiently interested in his work to persuade Walter to initiate his own projects, and he left the Germania-Werft. In 1934 beginning to explore this field, Walter found a like-minded soul in Dr Albert Pietsch, who's Electrochemische Werke, chemical company, was manufacturing hydrogen peroxide, and could see commercial value in an engineer with enthusiasm for his product. Pietsch invested 400,000 Reich Marks in Walter who had initially been working out of rooms at home, and so by July 1935 Hellmuth Walter Kommanditgesellschaft was born. Walter was joined by a colleague from Germania-Werft, Emil Kruska, and through the next year the small testing facility at Kiel was soon expanded into a full-blown design and experimental station, alongside the Kiel canal, only a short distance from open water in the Baltic. All this was possible thanks to Walter's continued courting of his increasingly influential contacts, most notably Karl Dönitz, who was sufficiently impressed by the proposals to offer a contract for the development of a prototype Walter submarine system.
In June 1936, Hellmuth Walter had met and married the 26-year old Ingeborg Möller, and together they went on to have five children.
Walter had quickly engineered the mechanical side of the chemical decomposer for his submarine plant, and whilst he was still working on the designs for his submarine hull, the basic hydrogen peroxide system was worked up into a propulsion unit for aerial applications. In early tests, a Walter hydrogen peroxide motor was tested alongside a liquid oxygen rocket motor designed by Wernher von Braun in trials as a potential power unit for an aircraft. The Von Braun unit, although first to test, suffered a number of catastrophic explosions, but Walter's design proved effective. After a number of very successful installations in a Focke-Wulf Fw.56, and Heinkel He.112, it was in 1939 that with a Walter power plant, the first ever flight of an aircraft powered solely by rocket motor, the Heinkel He.176, was completed.
Increased funding from both Kriegsmarine and Luftwaffe led to Walterwerke expanding its design and development into a number of separate areas, with satellite out-stations concerned with the design and development of torpedoes, rocket assisted-take off packs for aircraft, aircraft motors, propulsion systems for anti-aircraft and anti-ship missiles, launching systems for the V1 and of course submarines.
Once the funding was in place, Walter was able to develop a practical vessel to test his submarine ideas, and produced the 80 Ton, 2,000 hp, V80. This was a three man mini-sub, which was built by the Germania-Werft, the revolutionary high-speed shape having been tested in a wind-tunnel. In April 1940 the V80 was tested in the waters of the Schlei inlet, sea trials having been ruled out because of the danger from mines. 80 successful runs were made, with a maximum submerged speed achieved of 26 knots; compared with the typical Atlantic U-Boat's 750 HP electric engine giving a submerged speed of about 7.5 knots, and only 17 knots on the surface with its diesels.
Pleased with these developments, the Navy commissioned an improved boat, the V300, and later in early 1942, approved design drawings for a smaller 300 ton Type 17 boat, which was launched in the middle of 1943. Three Type 17-B U-Boats had been delivered by April 1945, but a further three went uncompleted.
An offshoot of a Walter hull design, went into production as the Type 21 - albeit with a massive battery-powered engine, instead of the peroxide motor. This type was universally known as the "Electroboot".
Whilst working on submarines, Walter also proposed a snorkel device so that conventional, diesel-electric submarines could cruise in comparative safety just under the water's surface whilst charging their batteries. His simple invention went on to become a feature of almost every conventional submarine from then.
In 1945, Walter was awarded the Knight's Cross for his wartime service.
In May 1945 Walterwerke was captured by a contingent from 30 Assault Unit, the secret Royal Naval intelligence unit, and despite the destruction of many documents, Walterwerke was largely intact. Interrogation and investigation by the British military led to Walter and a number of his colleagues being taken to the UK to work for the Royal Navy. One of the Type 17 German Walter submarines with peroxide drive, the U-1407, was salvaged from where it had been sunk in Kiel harbour and was commissioned as HMS Meteorite. With Walter's team at Barrow-in-Furness, the Royal Navy constructed two new hydrogen peroxide-powered submarines, HMS Explorer and HMS Excalibur, although this work was subsequently overtaken by the development of nuclear power.
Following the completion of his work in the UK, Walter returned to Germany in 1948, to work for Paul Seifert Engine Works.
In 1960 he emigrated to the United States and joined the Worthington Biochemical Corporation in Harrison, New Jersey, eventually becoming vice-president.
During his life he was awarded numerous scientific medals and awards, and he published over 200 patents. Hellmuth Walter died on 16 December 1980.
Web Master
Shamus Reddin

-: Home :-
-: Me.163 :-
-: Design :-
-: A. T. O. :-
-: Missiles :-
-: Preserved Motors :-