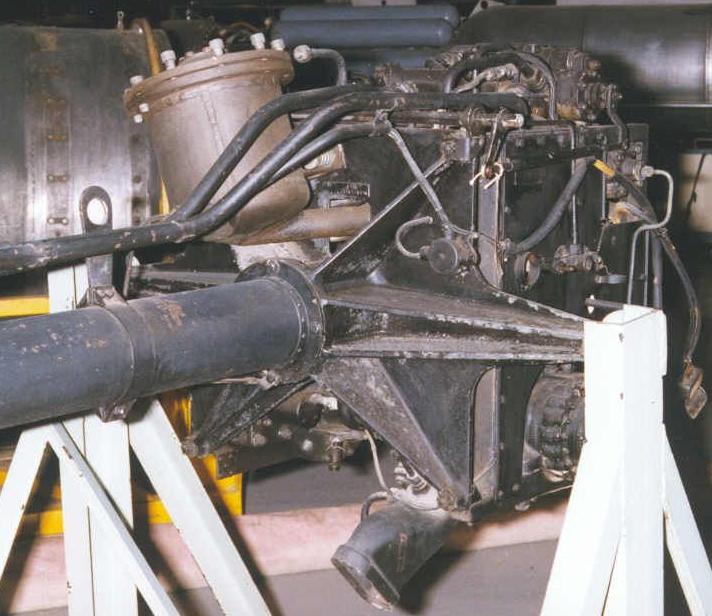 The starboard side of the motor seen from the rear, looking forward. Virtually the only unpainted piece on the motor, the unit on the left, is the Steam Generator. The weld lines on the Steam Generator are shown well in this view.
Just at the bottom of the picture, you can make out a vertical rectangle on the steam overflow pipe. This is an old patch of adhesive, which probably results from a label having been stuck to this part of the motor during its life as an instructional unit.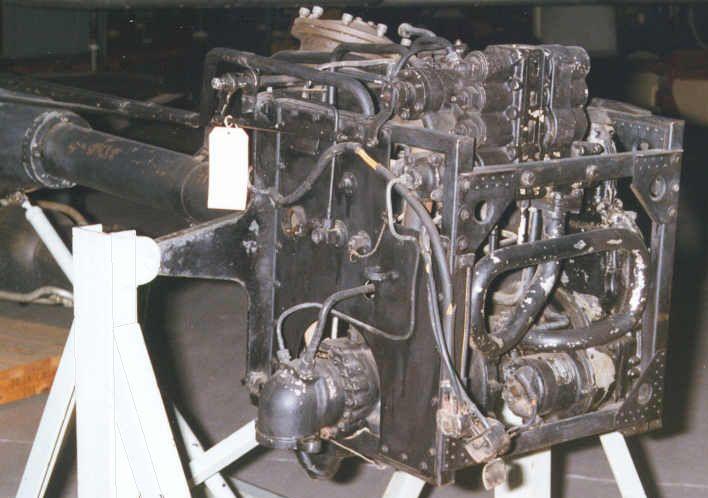 The starboard side of the motor, this time looking toward the motor thrust tube, and the rear of the aeroplane. It is very difficult to make out the different pipe runs in pictures like this, because they are all painted black.
However, one thing to notice is the side plate of the motor frame, which covers the entire starboard face. Compare this with the motor from the Shuttleworth collection, which has a small side plate; (although the Shuttleworth plate may have been cut down from a standard size, for display).
What is apparant here, is the flaking paint, making the exhibit look very shabby.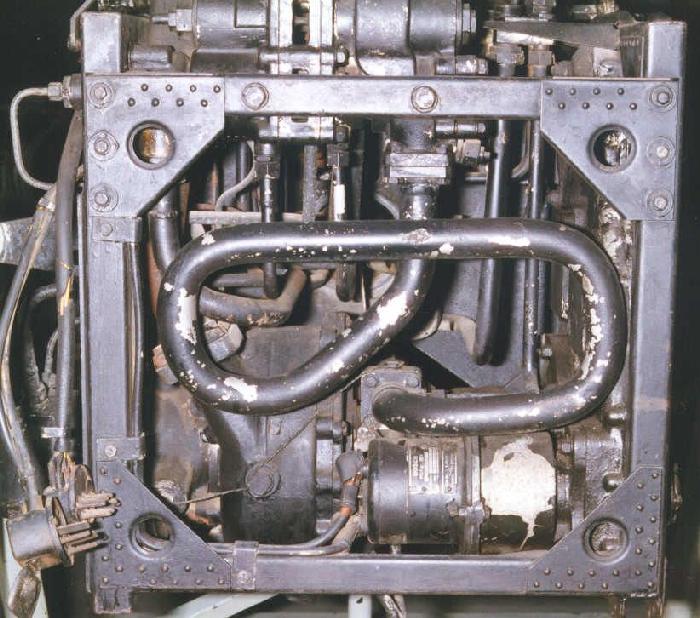 This view of the motor's front face clearly shows the standard features of an "A-1" motor - inlcuding the large T-Stoff pipe and the Bosch electric starter motor. Although they are not easy to make out, because of the paint.
The electrical services are clearly shown - the cable running from the starter motor along the bottom of the frame, and the connectors hanging free on the left of the picture. These would be plugged into the sockets on the bulkhead inside the aircraft fuselage.
Photographs © Shamus Reddin - with thanks to the Staff of the Science Museum, Wroughton
Web Master
Shamus Reddin

-: Home :-
-: Me.163 :-
-: Design :-
-: A. T. O. :-
-: Missiles :-
-: Preserved Motors :-