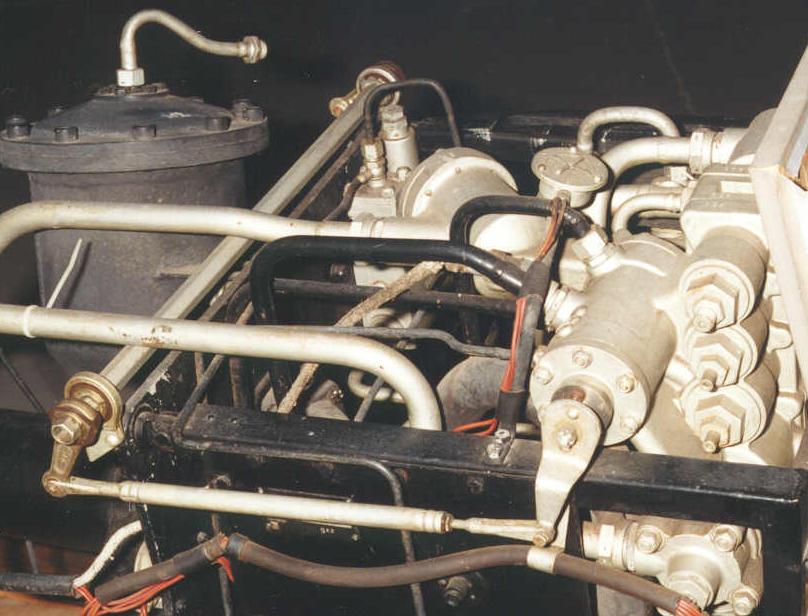 This photograph was taken at the Science Museum's satellite facility at Wroughton, in November 1999.
Showing the top of the motor, the unit on the right is the main fuel flow and pressure equalising unit, connected to which (in the background) is the cylindrical fuel filter. Beyond this, towards the top of the shot is the top of the turbine speed control, and the steam generator is on the top left.
One thing to note, is that the T-Stoff line which should run from the outlet of the Steam Control Valve to the free end of the pipe leading to the top of the Steam Control Unit is missing on this motor - and has not been present for over twenty years.
The circular item in the middle, by the fuel filter, to which are connected two red wires, is the "Brandwarnung" unit, which is monitoring the top of the motor when it is installed in the fuselage for any outbreak of fire.
The electrical loom has been fixed by brackets to the port side of this motor, although this may be a legacy of it being on public display.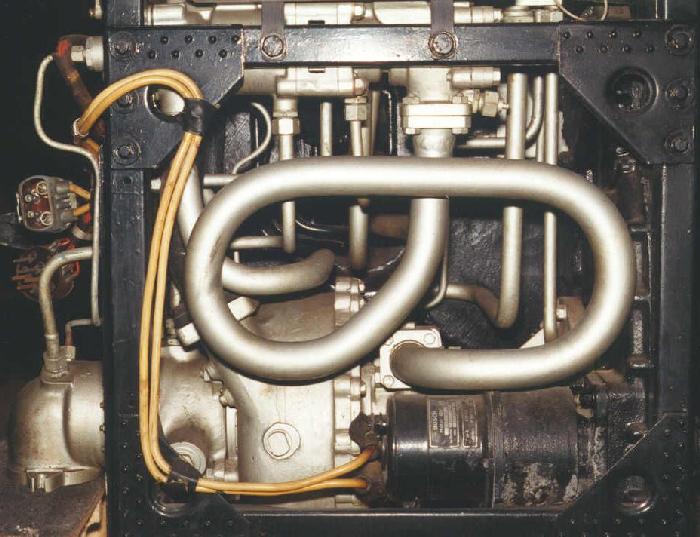 The forward part of the motor, showing the very obvious, large diameter T-Stoff fuel feed from the main fuel pump, up to the bottom of the fuel flow equalising unit.
On the bottom right is the classically distinguishing feature of an "A-1" series motor, the Bosch 24V electrical starter. Associated with this, are the yellow electrical leads and connections.
The terminating plugs are visible secured to the starboard side face of the motor casing. This is a legacy of the motor having been on public display, because these plugs would normally be hanging free for plugging into the socket against fuselage frame 8 of the aircraft.
The T-Stoff inlet and pump is hidden behind the starter motor. The C-Stoff inlet is the curved pipe on the very left of the picture, and the C-Stoff pump is the section of the pump unit next to the steam-powered turbine housing.
Photograph taken at Science Museum store at Wroughton, November 1999.
Photographs © Shamus Reddin - with thanks to the Staff of the Science Museum, Wroughton
Web Master
Shamus Reddin

-: Home :-
-: Me.163 :-
-: Design :-
-: A. T. O. :-
-: Missiles :-
-: Preserved Motors :-