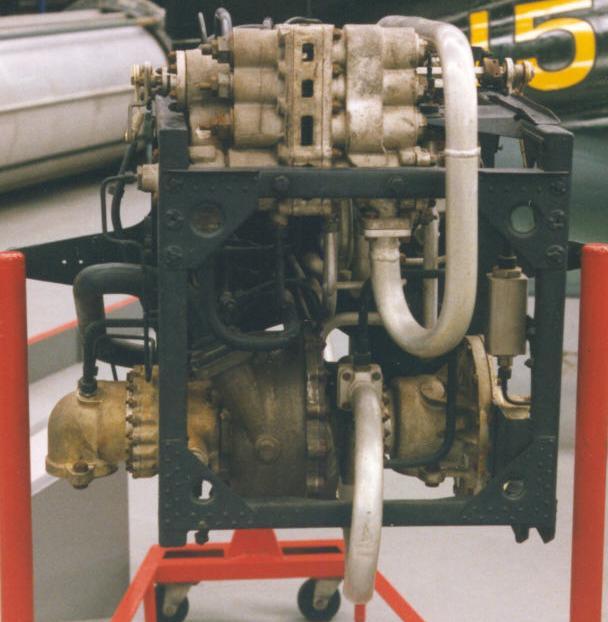 The empty space on the port side of the motor shows the electric starter motor is not included in this design.
My feeling is that the entire fuel pump has been repositioned more outboard than would be usual with a standard "A-2". The amount that the C-Stoff fuel inlet protrudes beyond the motor casing is far more than expected. Maybe that's why the steam generator outlet pipe is run around the outside of the frame.
This view shows the output from the T-Stoff pump being diverted under the motor casing, rearwards to the cooling jacket of the combustion chamber. The T-Stoff return appears over the top of the motor to the underside of the main control unit and back into the fuel combustion system.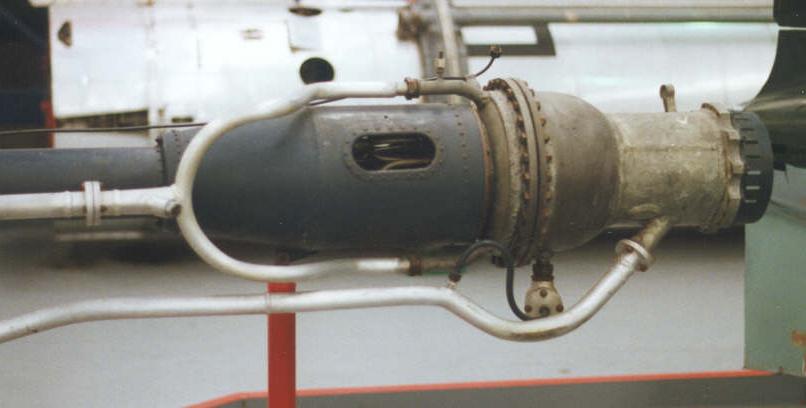 The extraordinary combustion chamber arrangement of this motor can be assumed to be very different from a standard "A-2". The combustion chamber outer casing is of very heavy guage steel with strong weld lines and a heavily bolted flange. Compare this, with the more elegant "A-1" combustion chamber of the N.A.S.M. 109-509.
The T-Stoff outflow from the fuel pump arrives at the trailing end of the combustion chamber jacket in a single pipe, but a double outlet, merging to a single pipe takes the heated T-Stoff back towards the motor fuel flow control system.
The number of plugs and tappings visible in this system may be for inserting measuring equipment, draining fluids or priming prior to running.
Photographs © Shamus Reddin - with greatful thanks to the Museum of Flight, East Fortune.
Web Master
Shamus Reddin

-: Home :-
-: Me.163 :-
-: Design :-
-: A. T. O. :-
-: Missiles :-
-: Preserved Motors :-