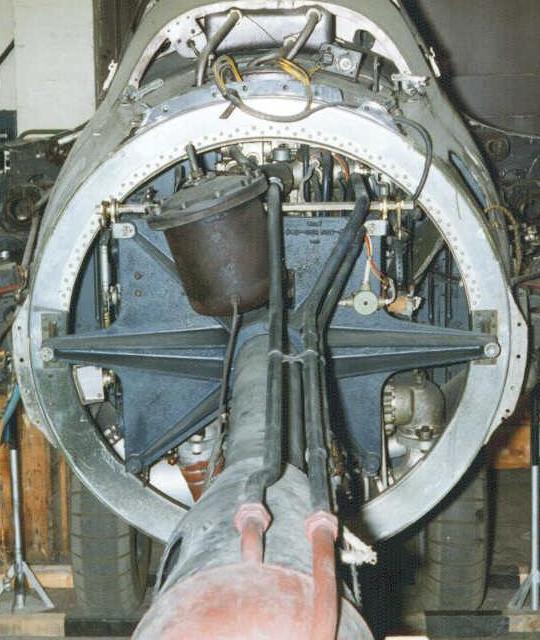 Looking almost directly down the aircraft centreline the motor thrust plate, anchored to the airframe by just two bolts is very clearly shown. One can also see the port offset of the motor frame, the box section being closer to the port mounting bolt than to the starboard.
The motor thrust tube is still set on the aircraft centreline, so as to avoid any thrust moment which would disturb the balance of the aircraft. The C-Stoff inlet, on the starboard flank, outside of the main frame can also be made out.
This is an "A-1" motor and shows the standard layout of steam generator, and running down the top of the thrust tube, the C-Stoff outflow (right) and return (on the centreline) pipes serving the cooling jacket of the combustion chamber.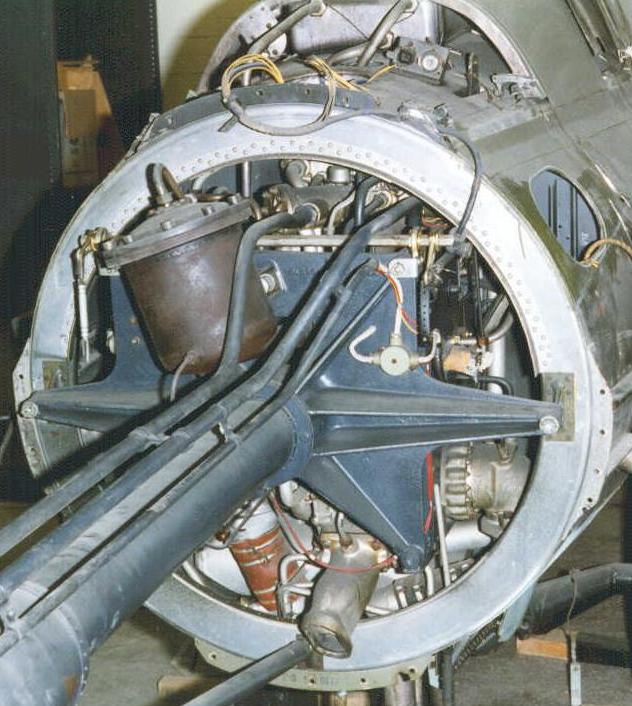 This view shows more of the intricacies of fitting a Walter motor to a Komet airframe. The small diameter tube now visible on the thrust tube carries electrical services down to the combustion chamber. The C-Stoff return can be seen entering the fuel filter on the top of the motor.
At the bottom of the installation, the oval steam outlet from the fuel pump turbine curves out towards the exterior. The brown, cir-clipped jacket marks the sealed join between the T-Stoff fluid pipe leading from the main tanks and the inlet on the pumping unit.
Photographs © Shamus Reddin - with greatful thanks to the Imperial War Museum.
Web Master
Shamus Reddin

-: Home :-
-: Me.163 :-
-: Design :-
-: A. T. O. :-
-: Missiles :-
-: Preserved Motors :-