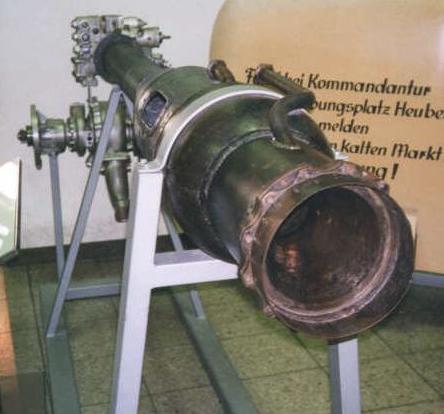 In the display are the fuel pump unit, the fuel flow and pressure equalising control unit, a motor thrust tube and combustion chamber.
The fuel pump and pressure equalising unit are very well preserved and in beautiful condition. It is very easy to see the details of the complex castings.
The thrust tube and combustion chamber have undergone work to preserve them, but it would seem that they do not come from the same place as the other parts. Although the aluminium would have been more resistant to corrosion, I assume that the obvious, heavy corrosion of the steel of the combusion chamber cover indicates that it has been subject to oxidising conditions - burial in the ground, immersion under water or uncovered storage out of doors.
Photograph © Reinhold Stadler - used with permission.
Web Master
Shamus Reddin

-: Home :-
-: Me.163 :-
-: Design :-
-: A. T. O. :-
-: Missiles :-
-: Preserved Motors :-