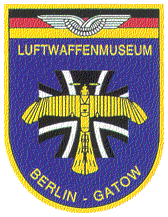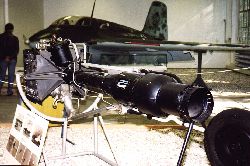 This motor is displayed nicely within the Museum's hangar. It is reputedly a composite, with some manufactured parts (see below), although it looks authentic enough.
Known History.
The Komet in the Luftwaffen Musuem, Wkr.Nr.191904, was captured by the RAF at Husum, and was once at RAF Colerne and St Athan. At the base in Wales, the Messerschmitt underwent restoration to display condition, and was then presented back to the Luftwaffe for display.
The details of the Walter motor display are currently unclear, but on his complementary site, in which he discusses the Komet,
Rob de Bie has the following to say...
"... another restoration was undertaken here, during which most of the equipment and parts of the engine are replaced. The engine parts were manufactured by the machine shop owned by Reinhold Opitz."
The photograph above was taken in 1999, by a fellow Komet/Walter fan. The subsequent pictures were taken a couple of years later.
Description.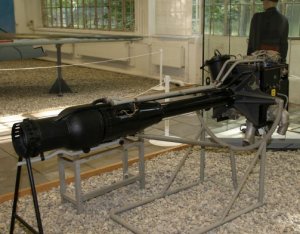 From the illustrations it appears as though this is a largely complete representation. However, it is difficult to tell if any parts are original, or which parts have been restored and which parts have been fabricated later.
The main motor frame, and the fuel pump look as they should. They are complex castings, and if these have been manufactured later, it has been done to a high standard. The combustion chamber seems to have accurate proportions and an authentic style.
The steam generator on the other hand, does seems deeply marked. Maybe it has suffered some physical damage and/or corrosion, in which case a slightly irregular surface appearance might be nothing unusual.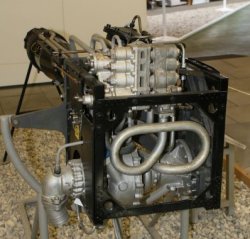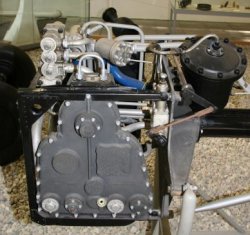 From these views it can be seen that from the accessories gearbox side, the small dipstick to measure the oil level is missing. Also, from the other, it is just possible to see that, underneath and to the right of the T-Stoff inlet pipe, the electric starter motor is also missing.
Quite why the steam outlet pipe from the steam generator to the turbine fuel pump is painted blue, I'm not sure.
Web Master
Shamus Reddin

-: Home :-
-: Me.163 :-
-: Design :-
-: A. T. O. :-
-: Missiles :-
-: Preserved Motors :-