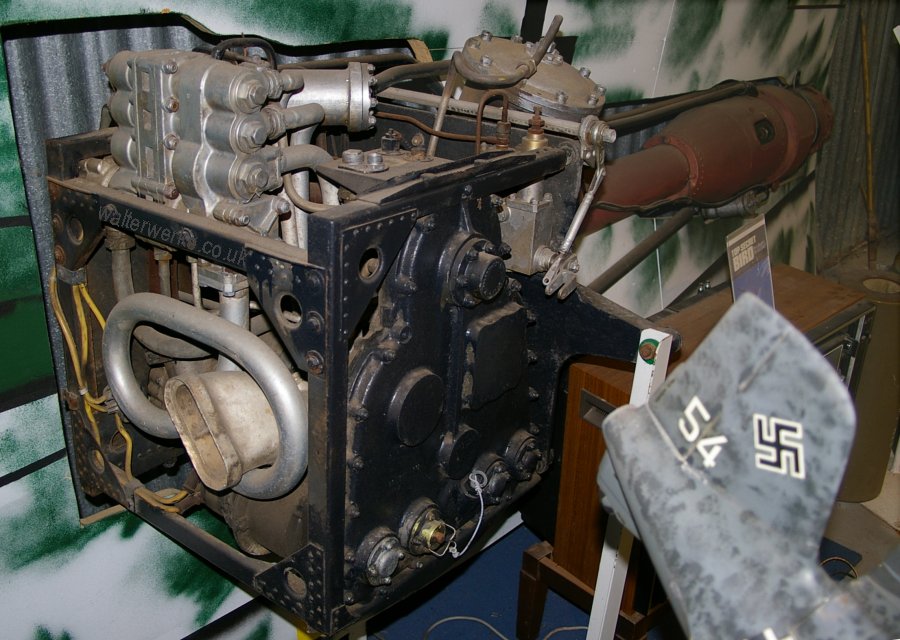 This view shows the classical and definitive view for a Walter 109-509. It illustrates the large accessories gearbox and also the electrical starter motor.
The propellant flow and metering unit is in the upper part, shown together with the C-Stoff filter which it overlaps in the background. The curious large opening in the centre of the T-Stoff outflow pipe from the T-Stoff pump, is actually the end of the exhaust steam outflow pipe. This has been disconnected from the bottom of the turbine pump and "posted" into the back of the motor, presumably to keep it safe.
Also shown in this view, are the yellow cables of the electrical system. These deliver electrical power through the aircraft's power loom to the starter motor. At the termination of the cables is a multi-pin connector which plugs into a socket inside the fuselage of the Me.163 Komet.
It's not unique to find electrical cables still present on a Walter motor, but it's not common, and may indicate a motor which has not been radically modified since it was manufactured.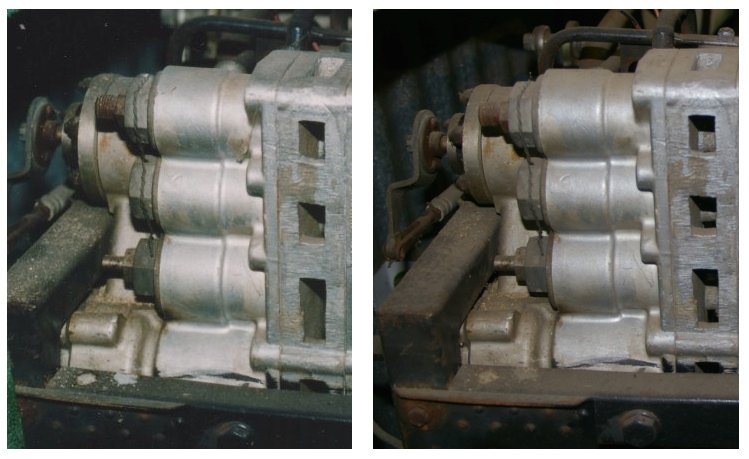 Jim Masocco's pictures from 2011 act as an interesting comparison between the current state of the motor, and how it appeared in 2001. Sadly, the general appearance is one of a steady deterioration.
In the image above, the left image is the earlier from 2001, and on the right is the later image. The comparison shows a steady accumulation of dust and the spread of rust over the steel parts. The two images are ten years apart, but interestingly there has been no change in the care of the motor - the C-Stoff control valve actuator rod has not changed position, and the two spots of paint on top of the steel frame remain - although now considerably dulled by a coating of dust and dirt.
Photographs used with kind permission
Web Master
Shamus Reddin

-: Home :-
-: Me.163 :-
-: Design :-
-: A. T. O. :-
-: Missiles :-
-: Preserved Motors :-